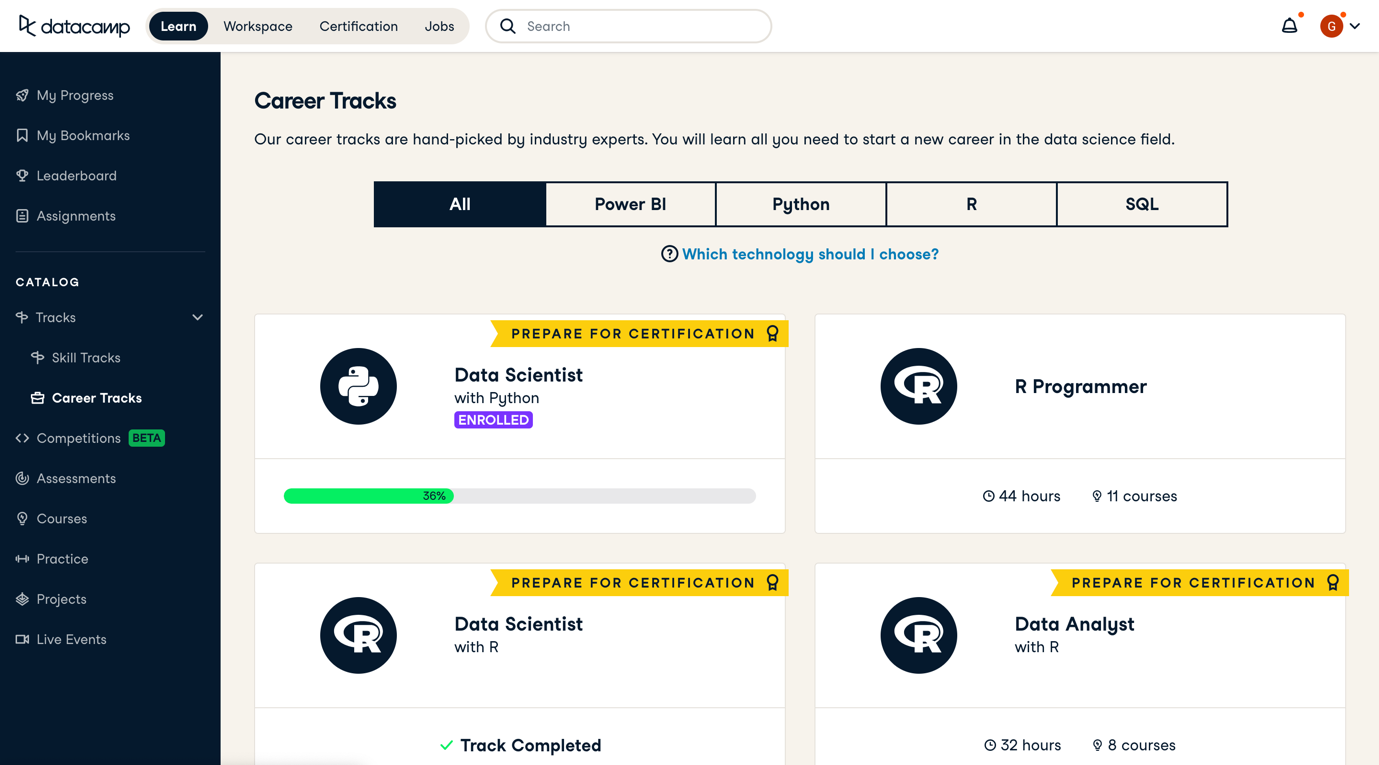 Beirut AI Partnership with DataCamp – Testimonials 2023
April 7, 2023
Shaping the Future - Beirut AI 2023's Highlights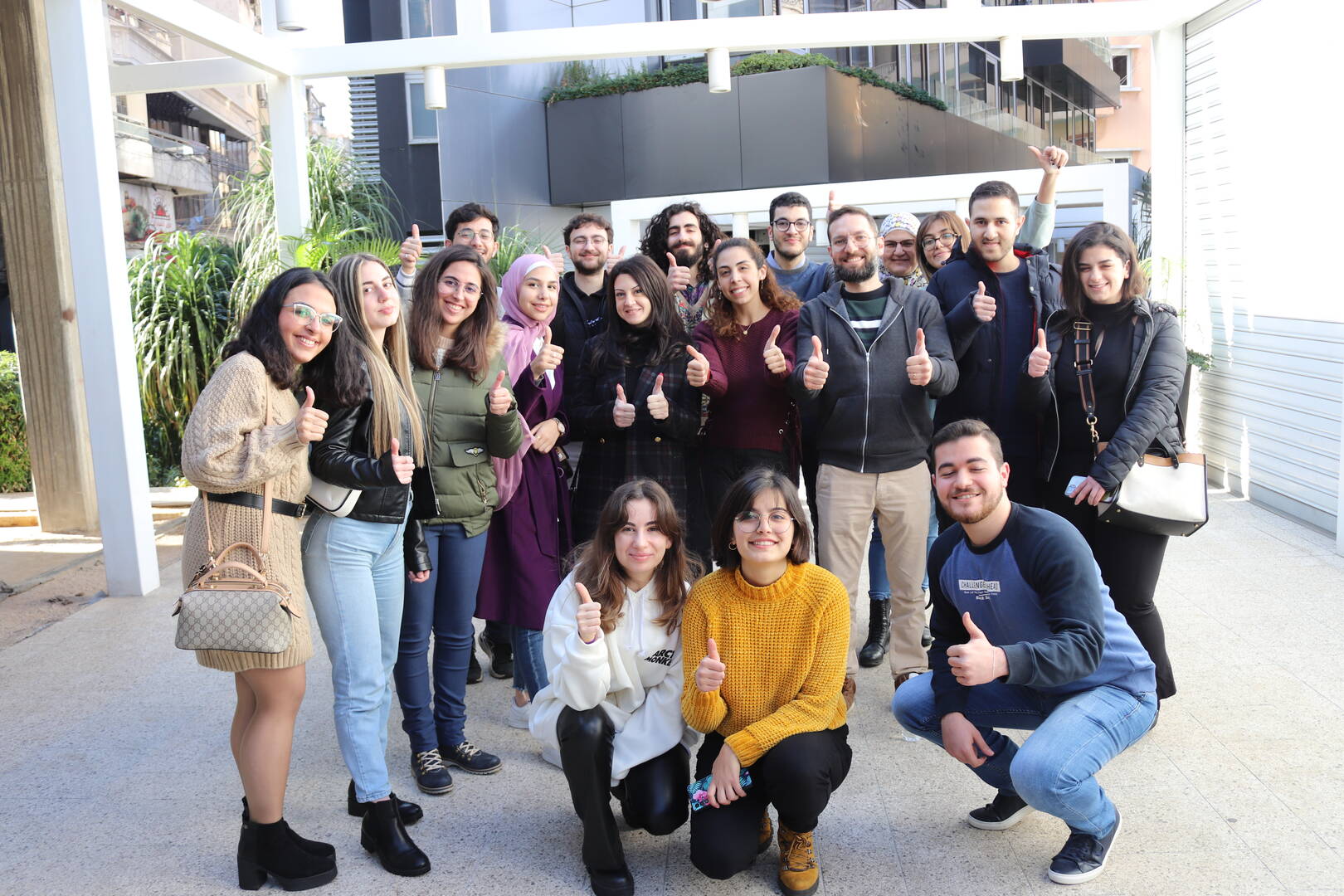 After a long hiatus last year, Beirut AI is back with a bang this year! New team, new events, new programs and much more!
As a community driven organization, we decided this year to expand the team horizontally to create 10 new teams with leads addressing the needs of the community:
Membership (Mohammad Shahin), 
Community Aid Program (Ghadi Hasbani), 
Website Management (Ahmad Ismail), 
Meetups (Harout Topjian), 
Mentorships (Sarah Yassine), 
Partnerships (Samar Yammine), 
Community Management (Maria Ghandour Achkar), 
Marketing & Communications (Azza Hammoud), 
University Ambassadors Management (Alaa Mouhajer and Riwa Hoteit), 
Technical Ambassadors Management (Mahmoud Yamani). 
Our initiatives at Beirut AI are driven by the dedication of our volunteers, and we want to express our profound gratitude for the role they play in the Beirut AI community. Without their contributions, our mission would not be possible, and their efforts remain the cornerstone of our accomplishments!
With such diversity in projects and teams, our first Beirut AI team gathering was an important checkpoint to introduce the new structure, explain Beirut AI mission, and get to meet each other. Not only we wanted to recruit volunteers, but also train them to become the future leaders of the community. Our membership lead, Anis Ismail, engaged the leads in an interactive discussion regarding leadership styles, team communication, productivity tricks and real-life scenarios.
With this new structure came a new strategy for onboarding Beirut AI volunteers regarding our internal structure, meetings, and our community platform Mighty Networks. Thanks to Maria Ghandour Achkar, community manager at Beirut AI, for creating this amazing guide to Beirut AI!
Mentorship Program
This year marks the second year of our Beirut AI mentorship program, an incredible opportunity for Beirut AI members to connect with AI experts in personalized one-on-one sessions. This year, the mentorship lead Sarah Yassine has been busy with launching the mentorship program in two batches. The first batch, which began in April 2023, consisted of 9 mentors and 13 mentees. Collectively, they contributed an impressive 28 hours of mentorship! We extend our heartfelt gratitude to every Beirut AI mentor: Abdallah Daher, Ammar Mohanna, Anis Ismail, Hadi Abou Daya, Jean-Pierre Fakhry, Lara Wehbe, Mohamed Khanafer, Samer Salameh, Simon Abi Younes, and Yara Chaaban. The second batch for this year was launched in the beginning of July and comprised 8 mentors and 14 mentees.
But how does the mentor-mentee mapping process happen? First, the members are required to complete an application form about their backgrounds, AI-related experiences, objectives, and how their participation in the program aligns with their goals. Our assessment framework relies on three key criteria: Demonstrated AI experience (10%), Clear motivation and enthusiasm (10%), and Well-defined expectations from the mentorship (10%). Each applicant's response is meticulously evaluated based on these fundamental benchmarks, resulting in a total score out of 30.
Applicants are eligible for the mentorship program if they achieve a minimum score of 15 out of 30. These scores play a pivotal role in establishing priorities: those attaining 15 or higher are categorized as having medium and high priorities, respectively. Moving forward, we take each applicant's objectives into account to thoughtfully pair them with a mentor from our esteemed pool of mentors.
Interested in joining our mentorship program? Follow us on social media and stay up-to-date when the next batch of mentorship will be open!
Membership Program
The membership program this year expanded to include more gatherings and initiatives. For example, the membership team worked hard to create an amazing new onboarding document for new members. This onboarding document was part of our initiative to make the membership benefits clear for all our members, and to create a single space where they could access them all in one go! With this new onboarding document comes a new shiny poster for our Tuesdays with Beirut AI event! We would like to thank Mohamad Shahin for spearheading this initiative, your effort did not go unnoticed!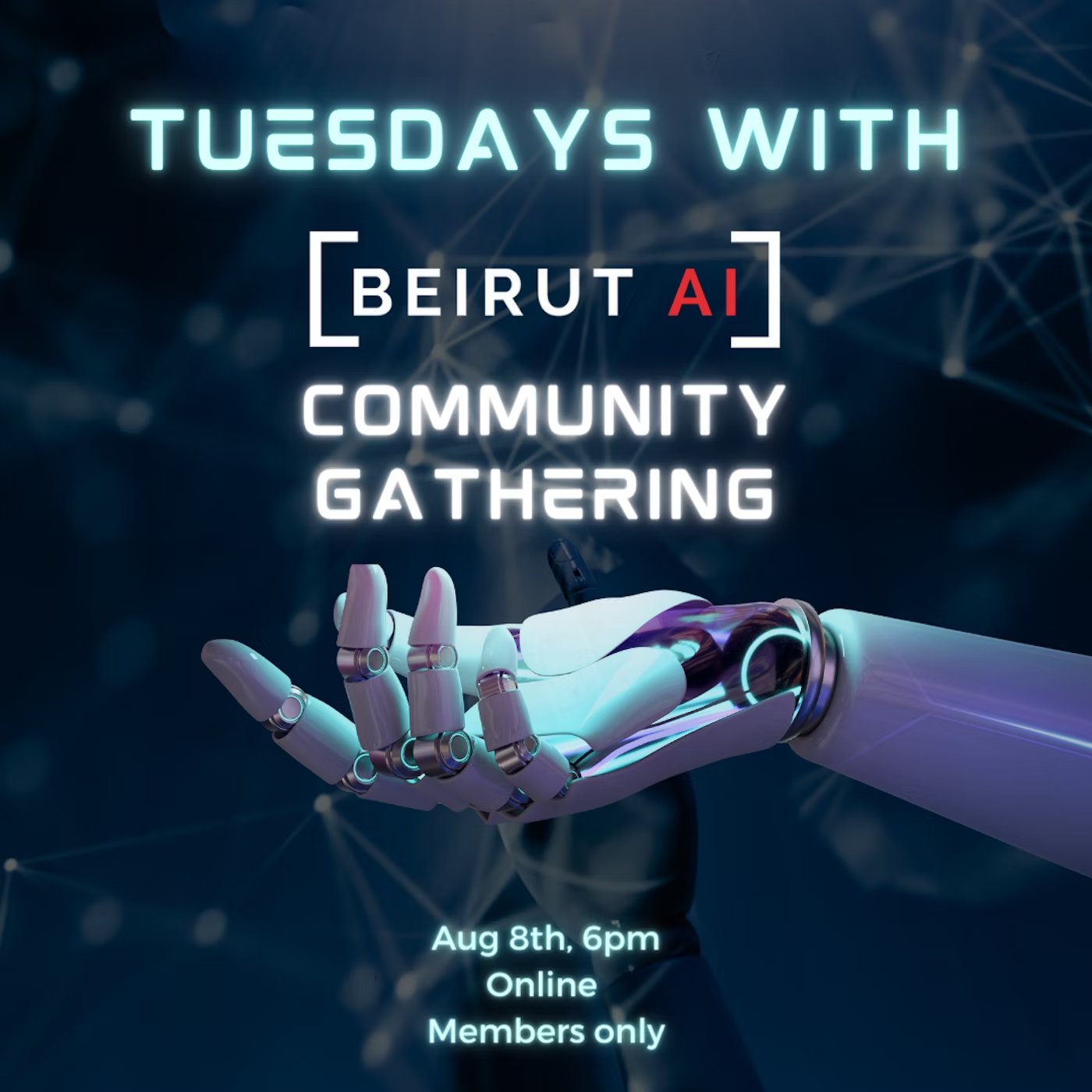 Our editor Lama Mouheb has been buzzing like a bee for the last months working hard on writing new posts for Thursday's thoughts about AI initiative on MightyNetworks! Lama was also following up with all members interested in writing and we are grateful for her support all the way since the beginning of the year! Here are some of our most popular thoughts of this year: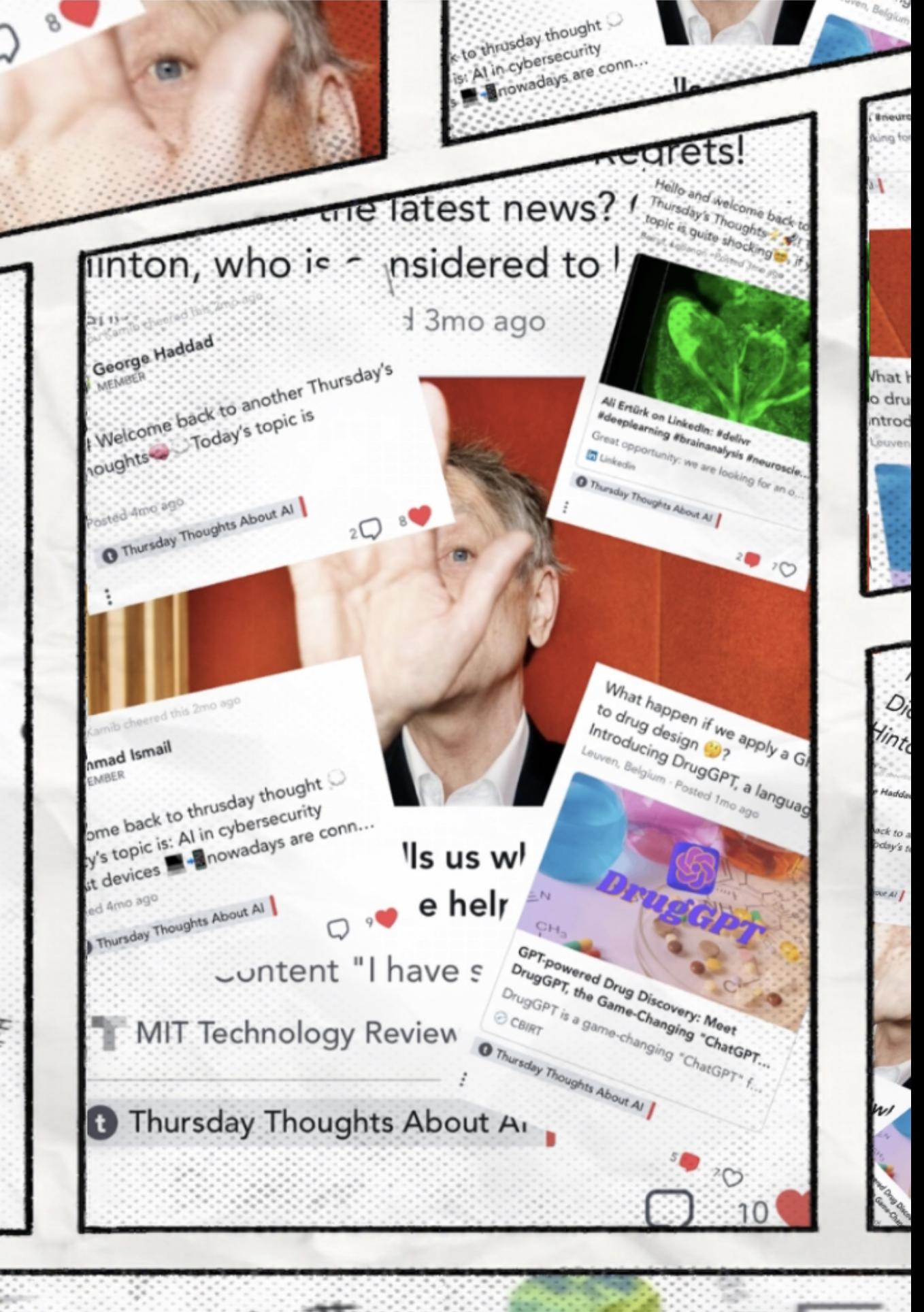 DataCamp - Community Aid
The Community Aid Program team at Beirut AI is on fire this year! We've got some seriously exciting news. Drumroll, please... Our DataCamp subscription is officially extended for another year! But that's not all, we're not just bringing in new members, we're welcoming 300 of them to the DataCamp family! Yep, you read that right – a whole 100 more than last year! Big shoutout to DataCamp for being the wind beneath our wings for three fantastic years.
And that's not the end of our winning streak; We teamed up with DataCamp to host the rockstar Karim el Daoui on May 2nd. He's the Director and Volunteer at DataCamp, and he gave a workshop on soft skills – from navigating the 2023 job market rollercoaster to CV crafting and future-proofing your AI career. Our community members were in full focus, soaking in every bit of Karim's wisdom!
But wait, there's more! Ghadi Hasbani, our Community Aid Lead, has been the captain of our monthly gathering, steering online gatherings where members connect, share updates, and offer each other a helping hand.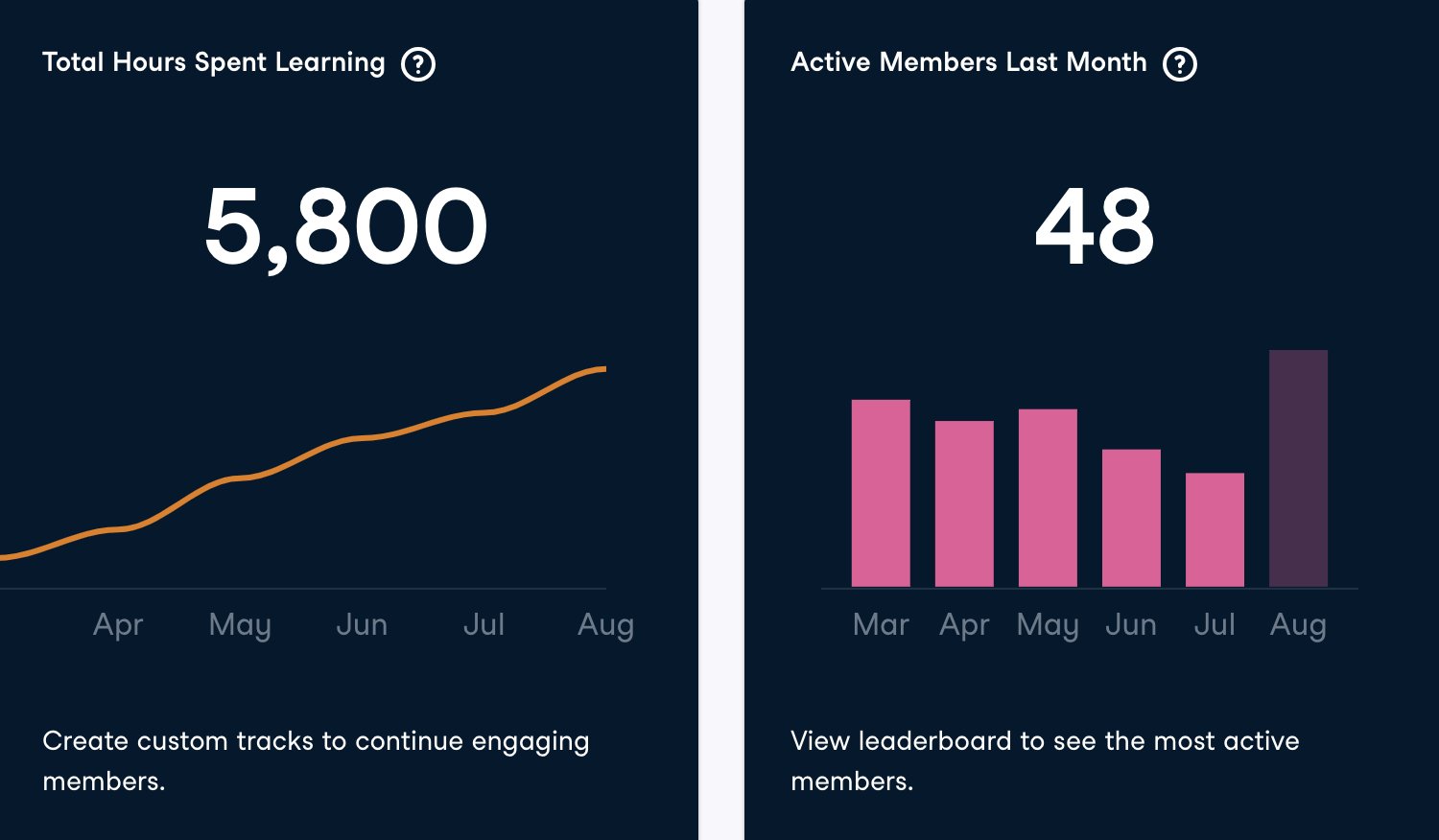 Zaka AI Bootcamp - Community Aid Program
37 AI enthusiasts embarked on a transformative experience through the Community Aid Program and participated in the Zaka AI Bootcamp. Over the course of four weeks, they had a deep dive into the artificial intelligence field, learning all about Machine Learning, Data Science, Computer Vision, Natural Language Processing, and Time Series Analysis. In the last week of the Bootcamp, our members had the opportunity to build innovative AI projects.
This program not only broadened their horizons but also highlighted the impact that AI is having on facilitating our daily lives. Interested in joining? Stay tuned for more bootcamps with our Community Aid program here! 
Beirut AI Meetups & Workshops
This year we celebrated the return of our workshops and events live! With 4 meetups and 10 Introduction to AI workshops already done, we are excited to continue spreading the passion for AI and Data Science all around Lebanon!
So far we visited Beirut, Zahle, and Baalbek, can you guess our next destination? Stay tuned on our social media to learn about our next event! We would like to thank our motivated meetup and workshop team especially Harout, Reve, Khouloud and Mahmoud for their relentless support and hard work over the last six months!
On 6th and 8th of March 2023, we kickstarted our events for this year with a collaboration with AWS community at Beirut Digital District. More than 100 attendees joined us to learn about Transformers training and deployment, it felt so great to see all the community live again!
On May 27th, we started our trip across Lebanon by holding our first Introduction to AI at Baalbeck Cultural Center. More than 70 AI enthusiasts tuned in and joined us to get a deep dive into the world of AI!
Our technical ambassadors team have been on full swing over the last 6 months! A total of 10 workshops were offered in various universities and organizations across Lebanon. The LAU AI Club kicked off the series with an online workshop on March 3rd, conducted by Hadi Abou Daya. IEEE - BAU Club followed with an online workshop on March 22nd, led by Razan Abu Hatab. Meanwhile, the IEEE - PU hosted an online session on March 25th, with Lara Wehbe. On March 21st, LAU Beirut organized a workshop, jointly conducted by Lara Wehbe and Razan Abu Hatab. The USJ North - LU workshop, scheduled for in April, was hosted online by Hadi Abou Daya. Skillnest, on the other hand, successfully held a workshop on May 30th, featuring Hadi Abou Daya and Lynn Moussaoui as instructors. Haigazian University's workshop took place on May 5th, with Mahmoud Yamani leading the session. Rotaract, on the other hand, held an online workshop on May 20th, led by Lara Wehbe.
And that is not the end! We collaborated with Shabab Lab to host our first introduction to AI for Politics workshop on August 1st, led by Mahmoud Yamani, followed by an online workshop on August 10th for AlSharq organization, with Talal Al Chahine leading the workshop. In total, these workshops accumulated 300 attendees, spanning across different regions in Lebanon!
Our most recent volunteer gatherings were an full of fun and learning! We took time to reflect on our months of volunteering, sharing challenges, achievements, and progress, among  laughing and playing games together. A special round of applause goes to Maria, whose dedication and hard work were the driving forces behind those gatherings.
Final Thoughts
To wrap up on a high note, let's go highlight some fantastic ways you could get involved with Beirut AI. First off, think about becoming a proud member of our AI-loving community - it's a chance to learn, share, and grow together, all while having fun! 
But hold on, there's more! If you are curious about diving into the field of AI and getting hands-on, the Community Aid Program is for you. Applications for DataCamp - Community Aid Program are open and ongoing! Plus, if you want to join our team of Beirut AI heroes, keep an eye out for upcoming volunteer opportunities. With your help, our Lebanese community can shine brighter than ever!
A hearty round of applause is in order for our outstanding volunteers, especially our marketing wizards Fatima and Azza, as well as membership and community managers Anis and Larissa! Whether you're joining as a member, donating, or simply curious about our progress at Beirut AI, remember that YOU are what makes this community thrive. Stay curious, stay amazing, and let's continue to shake the world of AI, Beirut AI style!