A Sincere Message from Beirut AI to All Women
March 8, 2022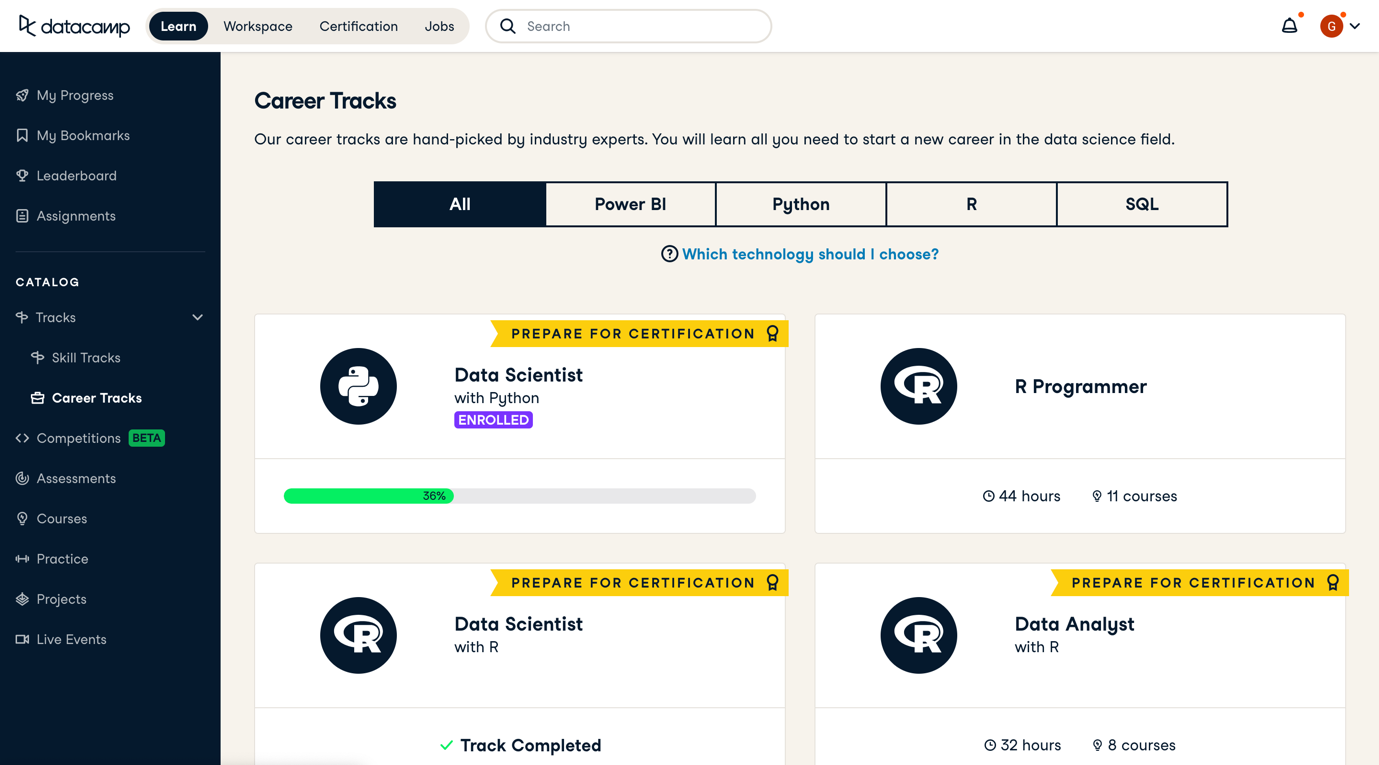 Beirut AI Partnership with DataCamp – Testimonials 2023
April 7, 2023
Beirut AI has partnered up with DataCamp to provide its members with professional skills as a part of the Community Aid Program (CAP). Furthermore, this blog is written by Ghadi El Hasbani, a community aid member, that has ultimately benefitted from this program in ways more than he imagined. Ghadi is currently in his last year as a Bioinformatics undergraduate student, minoring in Psychology and Math, at the Lebanese American University (LAU) and has been an active Beirut AI member for more than 3 years. He currently encourages many to take this opportunity into consideration by applying to the CAP through this link. Here are some few words written by Ghadi to inform you about his experience.
When I first joined the Beirut AI community, I had very little practical skills but a lot of enthusiasm to learn. I attended a few workshops and gained experience working with data, but I still lacked necessary programming, data science, and machine learning knowledge that could only be acquired through continuous training and learning. I had enrolled in Bioinformatics after a decision to plan for a career in research rather than medicine. Although bioinformatics was a new major in Lebanon, only available at the Lebanese American University, I realized that computation not only became a necessity to biological research, but it also provided me with freedom. If I wanted to take on a fun research project, I could do it entirely using my laptop and my skills. With such a vast field, I felt lost and confused. I didn't know where to start, what resources to use, or how to train myself to acquire such skills. This was the case especially through the first two years of my higher education during which courses in numerous fields are overwhelming. This meant that a large portion of practice fell on the student's back. I was still very excited to dive in, so I remained an active member of the Beirut AI community. When I saw that the Community Aid Program was launched during Summer of 2021, I did not hesitate to apply.
Although at the time I did not know all the benefits I would reap, I knew that there were many existing resources, many of which practically unaffordable to middle and lower class Lebanon after 2019, to learn data science and machine learning. With a program like this, I was sure I would be provided with valuable guidance and opportunity. Little did I know that it would be even more than I hoped for. After being accepted, I was granted one-year access to DataCamp.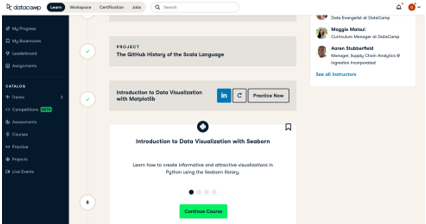 Figure 1: DataCamp main dashboard
I had not heard of DataCamp prior to August 2021, but it would become my companion to this date, and probably even after the end of my undergraduate studies. With the variety of courses on DataCamp covering numerous programming languages and subjects, I was able to perfectly complement my theoretical studies at LAU and comfortably complete course projects.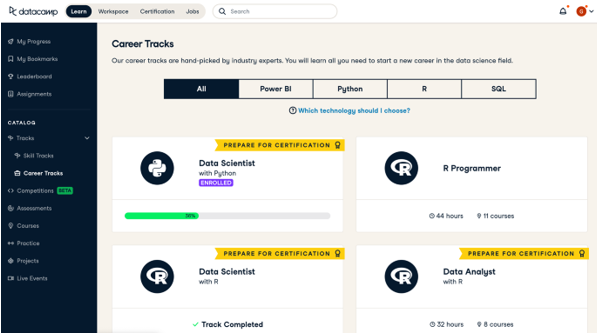 Figure 2: DataCamp career track page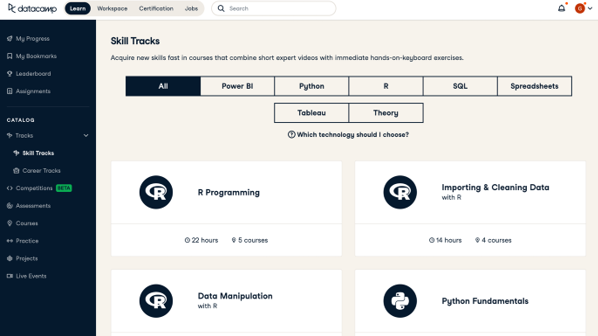 Figure 3: DataCamp skill track page
Whatever the course, chapter, or language, I was able to find a skill track or a course to parallel my semester on campus. Not only is the platform extremely comfortable to use, it also allows seamless progression and practice. Every day, apart from my coursework at LAU, I would complete a few chapters or a project on DataCamp as part of the career track I am following or as required by my coursework.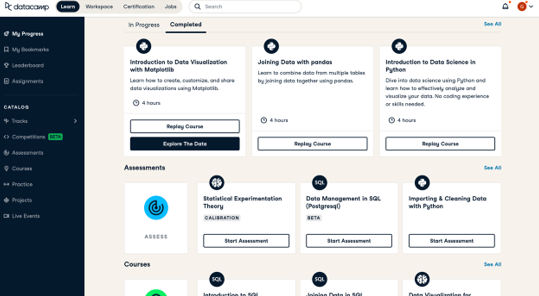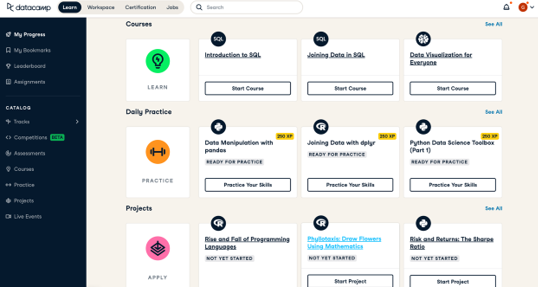 Figure 4/5: DataCamp main dashboard with courses, daily practice, assessment, and projects sections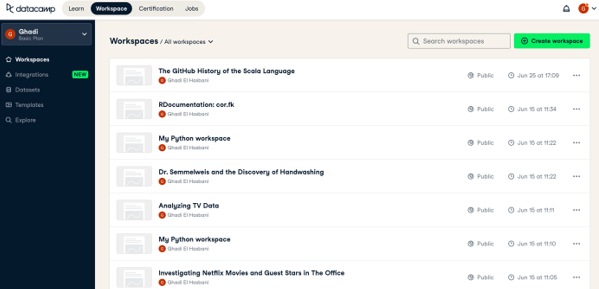 Figure 6: DataCamp Workspace
Not only did I gain, and am still gaining, tremendous knowledge that enabled me to directly implement what I study, but it also enabled me to excel above and beyond my university requirements. So far, through DataCamp's simplicity and flexibility, I have completed the Data Scientist career track and 4 skill tracks, including network, time-series data, and genomic data analysis, in R and am on my way to complete the Data Scientist career track in Python totaling to more than 50 courses.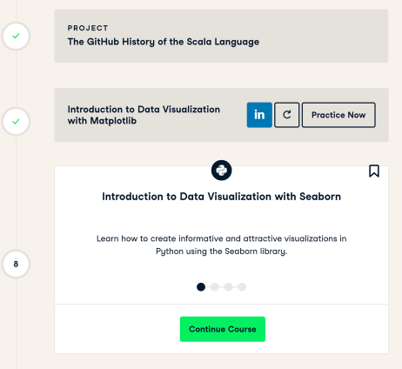 Figure 7: DataCamp Data Scientist career track in python progression
I am also planning on sitting down for the Data Scientist career track in R certification soon and enrolling in machine learning tracks in both R and Python. In less than a year, not only have I been able to join three research projects with my professors, but I have also become extremely comfortable taking on new topics regardless of my background knowledge. DataCamp has made my learning experience weightless and built my self-confidence in ways I did not imagine. The opportunity I was given by DataCamp through Beirut AI acted as both the highlight of my undergraduate journey and sufficient fuel to kickstart my career. From the personal experience of a student going through heavy computational coursework, especially in data science and machine learning, with no previous programming experience whatsoever, DataCamp will be the best friend to any lost souls desperately wanting to understand what they are reading, whether literature, coursework, or code.
If you wish to support other members like Ghadi, it is possible for you to donate here.