Beirut AI Community Recap: January 2021
February 9, 2021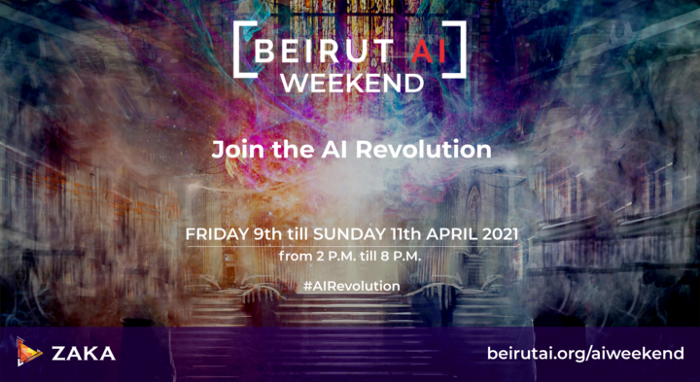 Beirut AI Community Recap: March 2021
May 22, 2021
Beirut AI Community Recap: February 2021
The most anticipated membership program has been finally launched! This February, everyone was on the lookout for new and promising opportunities as the hope for more upcoming ones in the future keeps on growing.
The window of opportunity is always open, one must seek it. Once it is found, the sky is the limit.
The AI Journey Continues
With an ever-growing world, a place where the only constant is change, it is the fascination and curiosity that drives us to explore every aspect of this world to the most possible extent. It is also a challenge to redefine what is possible, a challenge that we always accept and seek to explore with Artificial Intelligence.
Often, one would like to take a glimpse at the complexity of AI or just the potential that comes from the basic concepts piling up to yield transformative practices and applications. They propagate to various industries: transportation, education, communications, manufacturing, banking and finance, sports, aerospace, and much more! With a bit of persistence and resilience, of collaboration and support, of trying again when things do not work out, all of that made possible and shall continue to enhance it further.
The journey continues to get more exciting. We shall learn and grow together. It is this sense of community that brings its vibrance to the members, motivating them to learn and explore a world of limitless possibility.
The next steps towards growing the Beirut AI Community are always being planned and taken in ways that aim to maximize the outcomes and bring everyone together. With enthusiasm and dedication, there is a lot to look forward to and be part of.
Empowering the Community
From the community, for the community.
It is with excitement that we launch our promising Membership Program: An opportunity for all the AI Enthusiasts out there to learn, grow, and connect.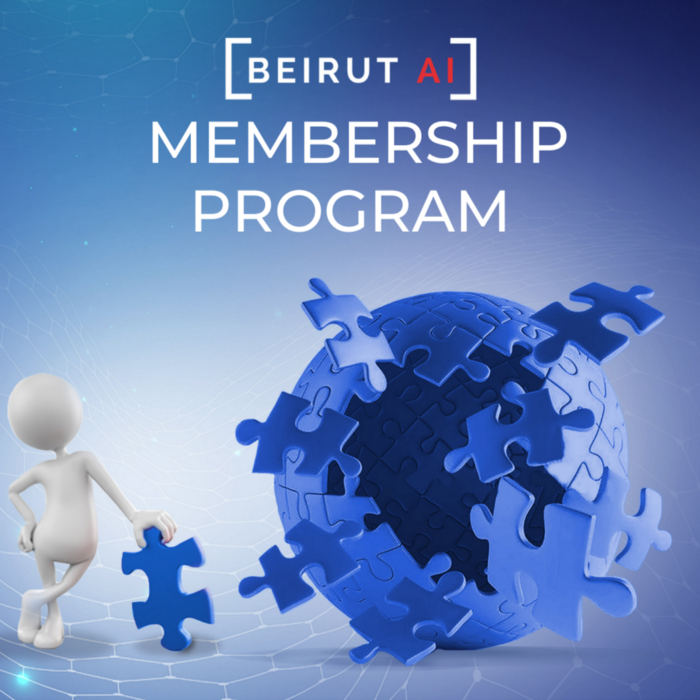 Our Beirut AI membership program provides the chance to join a community of Lebanese AI enthusiasts from different backgrounds. With such a community comes the commitment to constant improvement and the goal to set Lebanon on the global AI map.
Through this program, we also aim to help anyone interested in Artificial Intelligence to dive into its different fields. Starting with little to no knowledge of AI, one would only need the willingness to learn, and everything else is set! Those with a higher understanding of Artificial Intelligence can also contribute and grow, for there is always room for improvement and connecting with brilliant minds from the community.
We rely on Mighty Networks for connecting and sharing all community updates, and we surely want to make the biggest applied AI community in Lebanon bring the most fruitful of events, insights, connections, and atmosphere.
It is all about the support provided after all, and we always aim to engage the members in a process of AI discovery that promotes continuous learning to keep up with the constant change in the world. This becomes a mindset to live up to. The community shall always be buzzing with energy, welcoming its new members, and showing its appreciation of the motivation that comes from the fact that we are all gathered with aspiring members.
It is never late to hop on board! The value provided will make one enjoy the process of growth from any point of their careers. Every member can also benefit from discounts on all Beirut AI events as well as access to free workshops and gatherings.
AI Weekend is Back 🚀
It is also the uniqueness of the community and the dedication to quality that build-up for special events. These events aim to provide enthusiasts with the tools needed, the motivation to move, and the knowledge to make an impact in an ever-evolving world.
AI Weekend is here to provide all AI enthusiasts out there with the chance to learn extensively and engage with experts who have changed lives while applying AI!
The hype keeps building up and we cannot wait to see the impact that will stem from an unforgettable AI weekend from the 9th to the 11th of April 2021.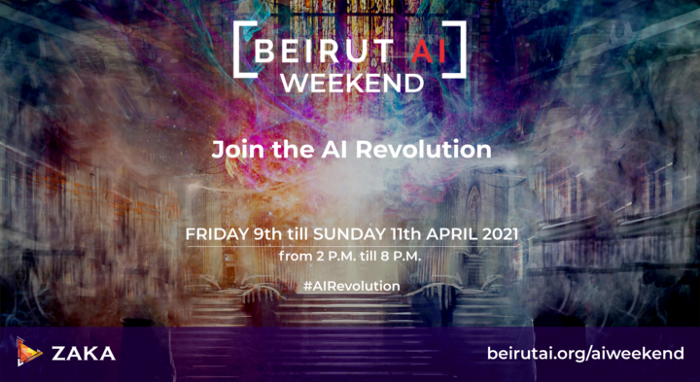 Join the AI revolution.
It is not just the theory that comes into place when aiming to achieve an evident impact in its different ways, and what AI Weekend continues to bring is more of a dynamic approach to practicality that comes from the workshops, problem-solving-driven discussions, and exposure to a friendly atmosphere of growth.
It is through the variety of the three technical workshops that we aim to foster that learning atmosphere. With that, hands-on industry experience is not far from reach. Basic programming background will be the ticket to beneficial interaction with AI experts, an opportunity to solve different real-life problems with the power of artificial intelligence.
For those with no programming background, there is also a place with us! Three business workshops will provide you with the opportunity to learn the art of dissecting business problems, exploring data analysis in business, and presenting data-driven business solutions given theoretical and practical knowledge of different Business AI strategies and case studies!
We are also looking forward to the three meetups that will take place. It will be the opportunity to engage more with Artificial Intelligence practitioners as they share and discuss the lessons they learned through applying AI. These talks will be open to the general public and with no technical background required.