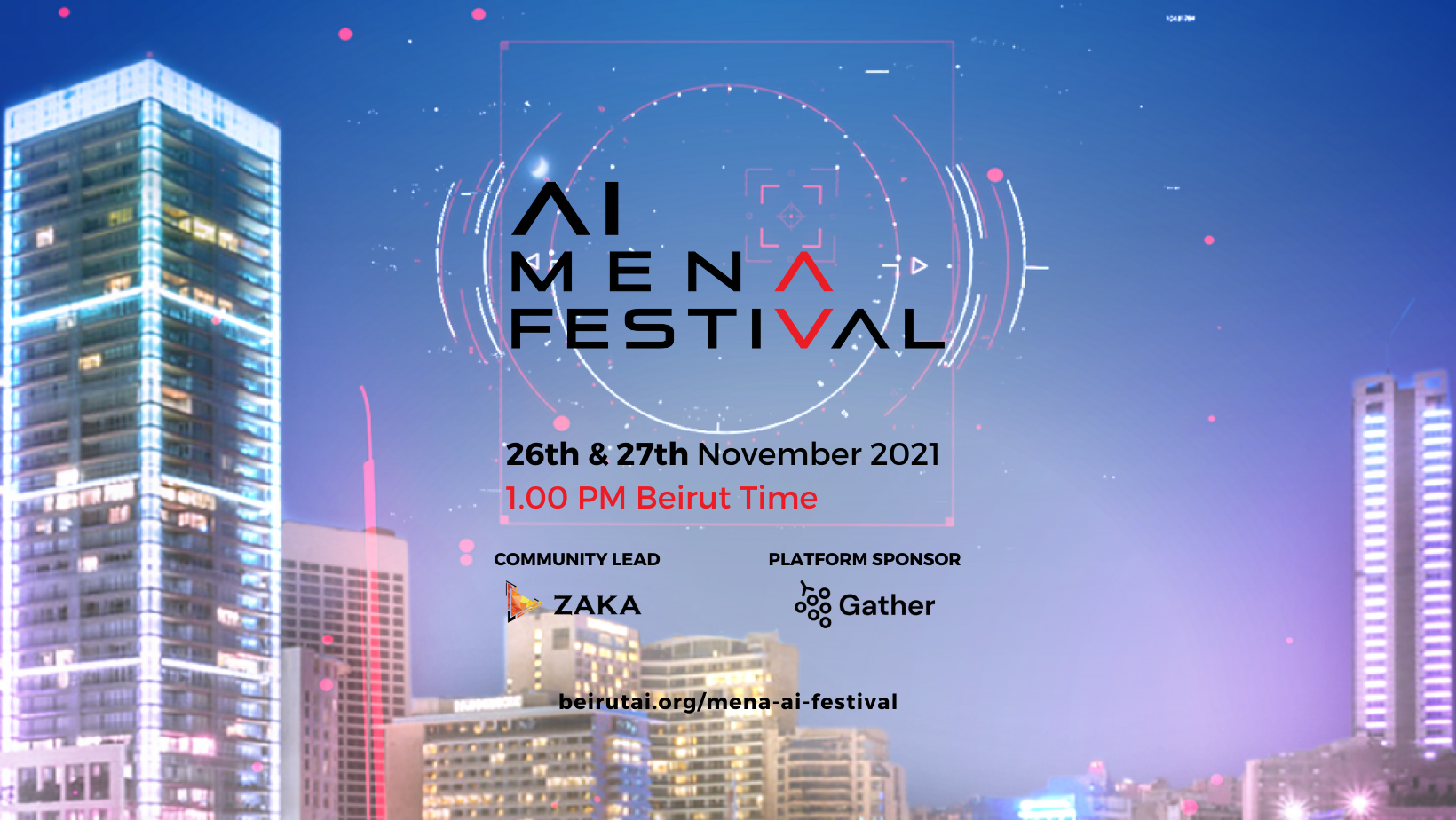 Beirut AI Community Recap: November 2021
December 10, 2021
A Sincere Message from Beirut AI to All Women
March 8, 2022
2021 has come to an end, and here's what you missed!
Despite all the challenges Lebanon has been through in 2021, from the health crises, to the economic collapse, education difficulties, and many more, Beirut AI, the largest applied Artificial Intelligence community in Lebanon, never failed to proceed with its mission to enable everyone to have access to the tools and knowledge to apply AI. Here's what we've done this year for that purpose.
Beirut AI Bootcamp
Beirut AI held two virtual AI Bootcamps this year in January and August, suported by our community sponsor Zaka, with more than 160 AI enthusiasts (30% females, 70% males with ages ranging from 18 till 43) who gathered and teamed up to learn AI and compete in AI projects while engaging their knowledge on-the-go through virtual networking sessions and fun games! In August, some changes were made to the Bootcamp. It was hosted for three weeks instead of one week offering pre-recorded hands on sessions, interactive office hours with experienced instructors, and project mentorship with industry experts.
"I would really like to thank the Beirut AI for organizing such a bootcamp in the middle of a crisis to help students and professionals accelerate their knowledge and career in the most wanted fields all over the world". -Kevork Keheian-
Hackathons
In January, Beirut AI hosted the AGRI Hackathon with 141 participants, and in June, the AI for Accessibility Hackathon in collaboration with Ipark - AUB and Microsoft with 160 participants. These Hackthons help AI enthusiasts from different backgrounds expand their skills and creativity and work on projects for eliminating local problems with modern solutions. This is the ideation step for our community members to start solving problems with the support of experts.
The AI Weekend took place in April, hosting three technical workshops for AI enthusiasts, three AI business workshops, meetups and discussions with AI experts from different fields. All in all, the AI Weekend hosted more than 230 attendees who got to learn about the impact that AI has left on all industries and how to make use of this AI revolution in their respective fields.
MENA AI Festival
The MENA AI Festival, part of the Global AI Festival organized by City AI, is a virtual event gathering local cities around the MENA Region to showcase their work, discuss the facilitation and adoption of Artificial Intelligence within various industries, and connect for a better AI ecosystem worldwide. This festival invited experts from the MENA region to explore the implications of AI in Business, Healthcare, Banking Sectors and many more.
This year Beirut AI hosted the festival with 9 speakers from Egypt, Lebanon, Saudi Arabia, and Jordan who presented 2 workshops, 4 talks and a Discussion Panel. With 520 interested participants (40% females, 60% males and 68% students, 32% professionals) from Lebanon, Syria, Jordan, Egypt, Saudi Arabia, UAE and many more MENA countries.
If you missed it, you can watch the MENA AI Festival workshops here
Membership
Due to high demand, Beirut AI launched its Membership program in February, 2021. This program gives you the chance to join a community of Lebanese AI enthusiasts from different backgrounds. By becoming a member, you will receive discounts on all Beirut AI activities and you will get the chance to attend free exclusive workshops, gatherings, and discussions and meet other AI enthusiasts. In 2021, 168 members have joined our community, all with different backgrounds but with the same passion for AI!
"Beirut AI Membership has been a great experience for me. Through the membership gatherings, I was able to solve a lot of AI problems that I have encountered in the past, by asking my fellow members, and receiving the needed support. It has also allowed me to meet a lot of AI enthusiasts and discuss AI with them which expanded my knowledge in the field"- Jean-Pierre Fakhry -
This year Beirut AI launched its Community Aid Program (CAP) in July. This initiative aims at achieving Beirut AI's mission of enabling everyone to have access to the tools & knowledge to apply Artificial Intelligence. Through the CAP, Beirut AI is supporting the community and every AI enthusiast to be introduced to this highly demanded field and expand their knowledge in AI by gaining FREE access to different educational programs.
So far, 62 participants have been accepted, 20% of them are professionals and 80% are students, with ages ranging from 17 till 44 years.
Donation Program
In order to fund our Community Aid Program and because many students as well as professionals or job seekers are having difficulties in investing in their future to learn new skills and to be able to find better opportunities and build their career life, we launched our Donation Program in July. So far, we have raised $580 from three different supporters who funded the community aid program! We look forward to increasing our donations to help as many community members learn about Artificial Intelligence for free.
Empowering Lebanese people through education and job opportunities in Artificial Intelligence, donate now
Are You Excited For 2022?
Lots of surprises and plans are waiting for you in 2022, and we're so excited to share them with you! We hope you have enjoyed this year with us and we cannot wait for more interesting initiatives and activities in 2022.
Give back to Lebanon by helping us empower AI through the Lebanese community, be part of the biggest applied AI community in Lebanon, and grow while learning from your local community experiences through joining our Membership Program See you soon!