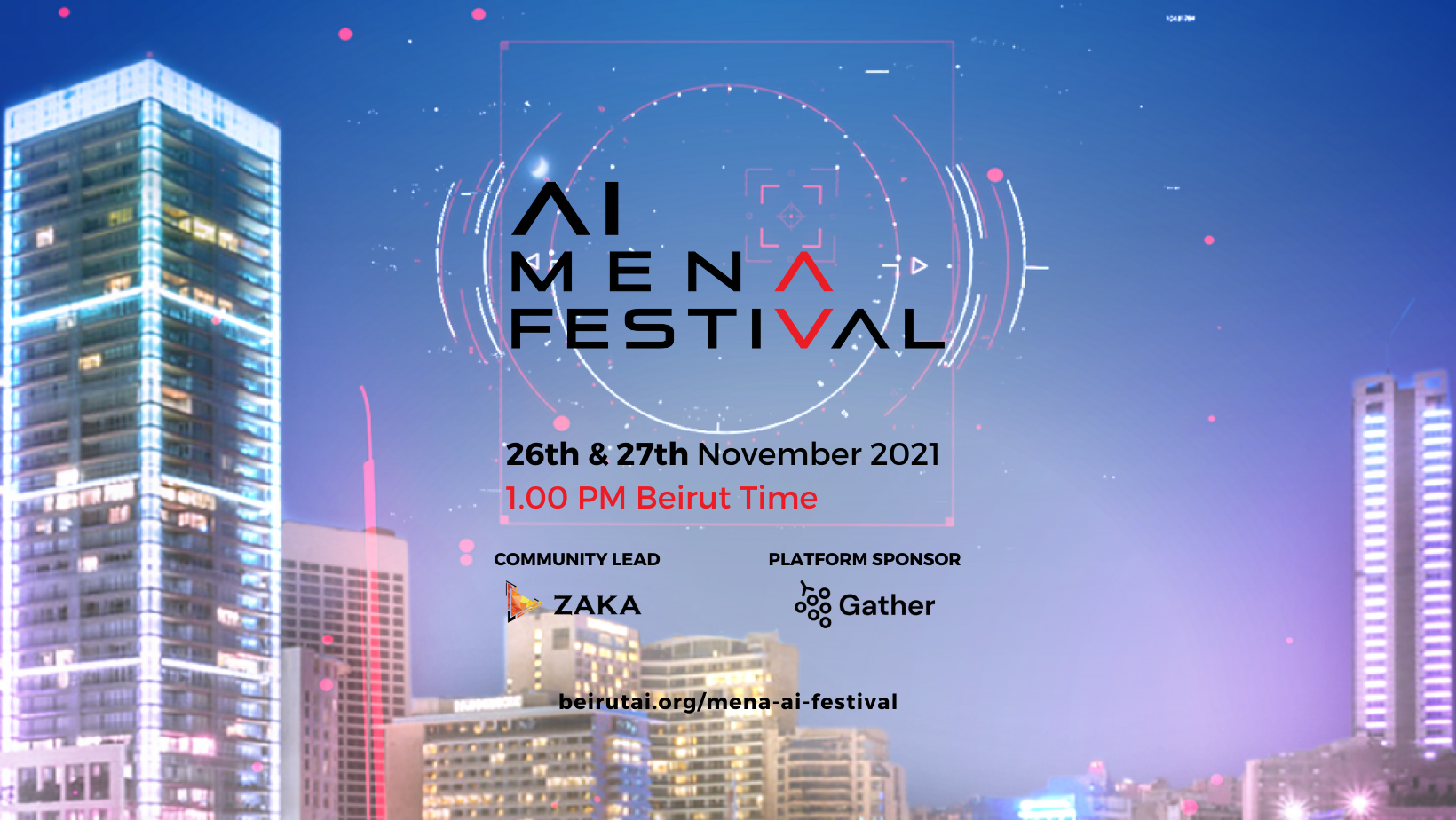 Beirut AI Community Recap: October 2021
November 8, 2021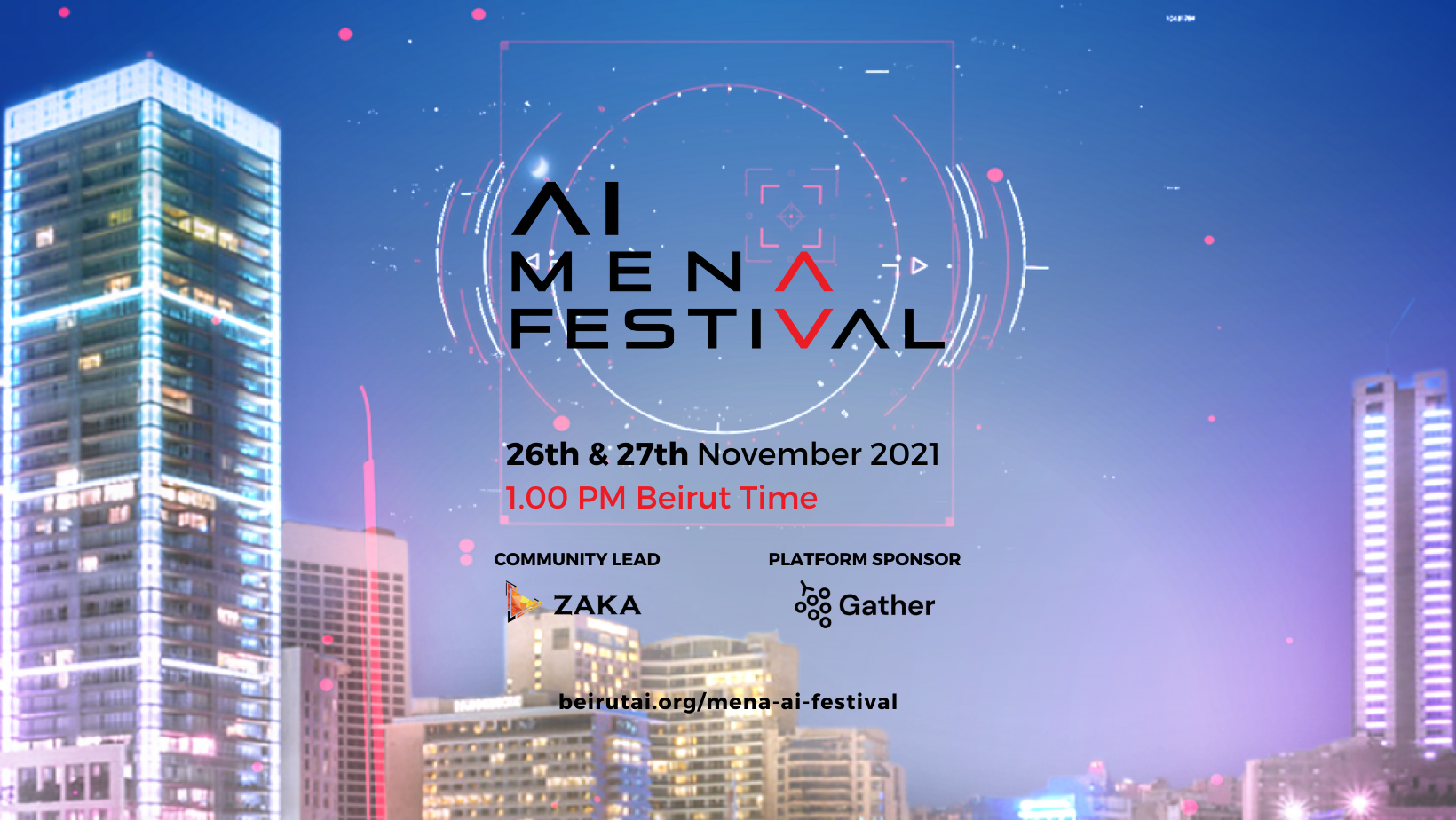 Beirut AI Community Recap: November 2021
December 10, 2021
MENA AI Festival Recap
The Global AI Festival organized by City AI aims to bring together multi-national experts as well as beginners in the Artificial Intelligence industry, and gives them the opportunity to build connections, initiate discussions, and participate in hands-on workshops to get a better understanding of how AI and its subdomains are being implemented in different cities and sectors of the world.
Representative speakers from all over the Middle East and North African region made the MENA AI Festival possible by providing insights on cross-sections between AI and education, healthcare, agriculture and many more, across the MENA region. The following is a recap of the key takeaways from the speakers' appearances.
Day One — Friday, November 26th, 2021
The event kicked off with a discussion panel on AI in Education in the MENA Region, moderated by Ms. Reem Mahmoud, Education Lead at ZAKA. The panelists were Mr. Sreejit Chakrabarty, Director of Robotics and AI at GEMS Education, Dr. Nailah Al-Madi, Associate Professor at Princess Sumaya University, and Ms. Joan Farjo, Head of In-Product Self-Service at Google Cloud.
With perspectives from the educational system and professional workplace, the discussion tackled relevant topics such as the skill gap between fresh graduates' degrees and the industry's needs and expectations. It highlighted students' focus on gathering certifications and increasing their theoretical knowledge, while recruiters and team-builders look for hands-on experiences that demonstrate a candidate's competence and potential to enhance business strategy. Ideas such as including more lab sessions and practical activities within school and college curricula were presented, and the necessity of updating these curricula regularly to keep up with industry trends was highlighted as well.
The second talk by Mr. Abdallah Nasir, Machine Learning Tech Lead at Tarjama, added on to what had been presented in the discussion panel by debunking myths on what educational courses on AI can provide, versus what problems and scenarios are actually encountered in real life. He provided an example of how a feature interpreted by its developer as useful and necessary, could be viewed by a client as annoying and unpleasant, which emphasizes how books and courses may or may not help an aspiring AI engineer with their actual career journey and challenges.
The talk that followed, entitled How to Land a Remote AI Job and presented by Mr. Marc Banoub, Founder and CEO of LyRise, addressed the previously raised concerns regarding the skill gap between graduates and industry.
The beginning of the discussion revealed statistical data on different aspects of working from home, such as its impact on employee productivity and long-term connections. It also highlighted the growing demand for AI-related careers in such an environment.
Mr. Banoub then proceeded to engage attendees with thought-provoking questions that aim to help them self-diagnose where they are in their career, where they want to get and how they can get there. His advice covered subjects like internships, mentoring and personal projects that showcase added value. The talk additionally recommended a few AI learning tracks and revealed top in-demand positions and skills in the field, which ought to leverage the aforementioned skill gap in the long term.
Mr. Rami Al Karmi, Founder and Executive Chairman of ABnewNORMAL, wrapped up Day One of the MENA AI Festival with his talk entitled ABnewNORMAL: When the New Normal Is Abnormal. Mr. Al Karmi started off by saying that "just because it has worked in the past," doesn't mean that change is to be feared. He went on to explain "how to evolve your mindset and business out of hunger games'' and laid out simple, actionable steps with the potential of providing a radical, how-to guide for using moonshot thinking, and fourth industrial revolution technologies (AI, Cloud Computing, IoT and others) to eliminate all forms of toxic corporate immunity, and adopt a business model innovation-centric mindset.
Day Two — Saturday, November 27th, 2021
Mr. Fouad Trad, AI Instructor at Zaka, launched Day Two of the event with his workshop: COVID-19 Detection using X-ray Images. After introducing the concept of Image Classification, Mr. Trad proceeded to demonstrate his AI model capable of detecting whether a patient has COVID-19 or not from a Chest X-Ray image provided as input. The model relied on Deep Learning and, more specifically, Convolutional Neural Networks (CNNs), a subject which serves as essential knowledge for anyone interested in solving real life problems, like COVID-19, using Computer Vision.
Mr. Abdullatif Al Jabr, President at Double Feathers, also emphasized the promising potentials of Computer Vision in his talk "AI in Agriculture Supply Chains: Empowering Small Farmers." After shedding light on the AI economy, Mr. Al Jabr presented the impeccable boost that AI is capable of giving the agricultural sector. He specifically explained how AI can enhance bee farming and honey production through predicting the best locations for raising bees, taking several variables into consideration.
The MENA AI Festival came to a close with its final representative speaker, Dr. Ramzi Al Halabi, Lecturer and Research Scientist at Rafik Hariri University, who lead his workshop entitled Deep Cardiology: Multichannel Electrocardiogram Classification and Edge Deployment. Dr. Al Halabi provided a hands-on tutorial and demonstration of the main Deep Learning approaches for biomedical signal classification, and introduced participants to an end-to-end deep learning application on multichannel electrocardiogram signals to accurately classify multiple cardiac arrhythmias and pattern abnormalities via Convolutional Neural Networks (CNNs).
The workshop simultaneously familiarized the attendees with platforms like TensorFlow, TensorFlow Lite and Google Colab by adopting these environments for end-to-end deep learning, edge-deployment optimization, and coding in Python, respectively.
The 2021 Global AI Festival in general, and the MENA AI Festival in particular, served as an opportunity that hosted experts in the field to guide enthusiasts and beginners who wish to delve deeper into AI and the possibilities it unlocks. The Festival successfully walked its attendees through AI in education and agriculture, provided them with insights to land jobs in the domain, and gave them the much needed hands-on experience and practical knowledge to kickstart their AI journey.